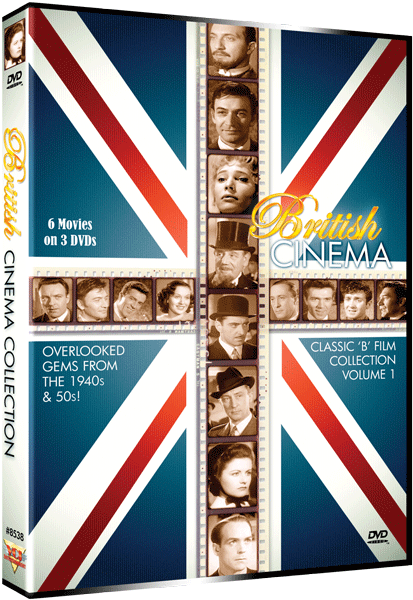 British Cinema Classic B Film Collection – Vol. 1
Six classics made between 1940 and 1960 which gained notoriety as solid pictures despite being originally intended for the bottom of the bill.  Drama, crime, and even Diana Dors!
Siege of Sidney Street, The Frightened Man, Crime at the Dark House, The Hooded Terror, Girl in the News, Tread Softly Stranger. 
Overview
SIEGE OF SIDNEY:
The date is 1911 and a standoff is sparked between Russian anarchists and police officers.
Violence and flashbacks to the events provide the tension to sustain the viewer to "stay till the end!"
1960 | B&W | 1.33:1/4×3 | Dolby Digital | All Region | NR

THE FRIGHTENED MAN:
Charles Victor, the owner of a small furniture & antique shop uses extra cash from handling stolen goods to put his son through Oxford.
However, the son gets himself kicked out and comes home to sponge off the old man. The son wants more money and gets himself involved
with some heavy duty bad guys. Tragedy is the name of the game in this one.
1952 | B&W | 1.33:1/4×3 | Dolby Digital | All Region | NR
CRIMES AT THE DARK HOUSE:
The inheritance of a large estate leads to murder, when a madman kills the recipient only to gain entrance to the estate so that he can enjoy
the life of luxury. But not everyone is convinced he is the rightful heir.
1940 | B&W | 1.33:1/4×3 | Dolby Digital | All Region | NR
THE HOODED TERROR:
This drama thriller is both classy & suspenseful. No one suspects a millionaire stamp collector to be the head of the country's most notorious
and feared organized crime ring. It's up to an amateur to track him down with little help from the police.
1938 |  B&W | 1.33:1/4×3 | Dolby Digital | All Region | NR

GIRL IN THE NEWS:
The perfect plot! An unsuspecting nurse, once acquitted of murder, is hired to care for the wheelchair-bound Mr. Bentley. This falls into the plans
of Mrs. Bentley and the butler – lovers plotting to set Ms. Graham up when Mr. Bentley is found dead.
1940 | B&W | 1.33:1/4×3 | Dolby Digital | All Region | NR
TREAD SOFTLY STRANGER:
Diana Dors plays Calico, the sexy vamp (or tramp?) and Terence Morgan, the staid little office worker and "love interest"of Calico. Things heat up
when the shady but handsome brother arrives from London. Instant attraction strikes between Calico & the brother – making her plan of theft take off.
1958 | B&W | 1.33:1/4×3 | Dolby Digital | All Region | NR
Actors
Donald Sinden, Nicole Berger, Kieron Moore, Peter Wyngarde, Godfrey Quigley, Tutte Lemkow, Bart Bastable, George Pastell, Angela Newman,
T. P. McKenna, Maurice Good, James Caffrey, Harold Goldblatt, Christopher Casson, Harry Brogan, Todd Slaughter, Margaret Lockwood, Diana Dors,
Mervyn Johns, George Baker, Dermot Walsh and many more
Directed by
Siege of Sidney Street – Robert S. Baker, The Frightened Man – John Gilling, Crimes at the Dark House – George King,
The Hooded Terror – Carol Reed, Girl in the News – Gordon Perry, Tread Softly Stranger – Denis O'Dell