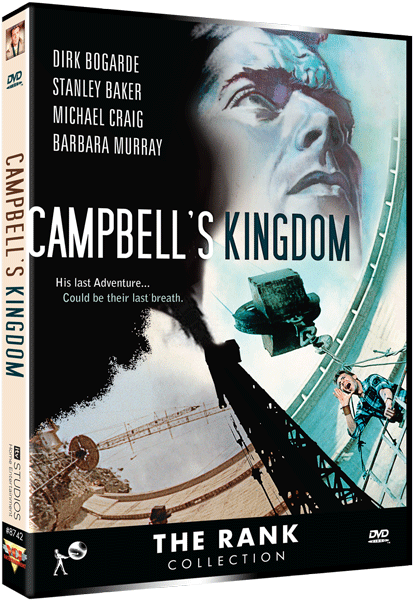 Campbell's Kingdom
His last adventure… Could be their last breath!
Bruce Campbell, a young Englishman who believes himself to be incurably ill, travels to Canada to take over the land he has inherited, and intends to take up the dream of discovering oil in Campbell's Kingdom before the valley is flooded.  This is a story about rugged Wildcatters… Fighting the treacherous might of the Canadian Rockies!
Overview
Bruce Campbell (Dirk Bogarde) is a young Englishman who believes himself to be incurably ill. He travels to Canada to take up his grandfather's inheritance, Campbell's Kingdom, a valley high in the Rockies. Here he intends to spend the last few months of his life. When he arrives in Come Lucky, an old ghost town which has lost the prosperity of its gold rush days, he is greeted with hostility by the men in the "Golden Calf" saloon. Owen Morgan, a contractor for Henry Fergus, tells him that his grandfather's death ended a deadlock in Come Lucky. The old man, King Campbell, believed there was oil in the valley. Therefore, he prevented Morgan from completing a dam and flooding the valley as part of a new hydro-electric scheme which would bring back prosperity. Now, since mining surveyor Boy Bladen's (Michael Craig) report shows that there is no chance of oil being found there, the Government has given permission for the flooding. Campbell chooses to take up where his grandfather left off and discover oil before the mining company can flood the valley!
1957 | 102 min | Color | Optional English Subtitles | 1.66:1/16×9 | Dolby Digital 2.0 & 5.1 Enhanced | Region 1 | NR
Special Feature:
•  Original Trailer
Actors
Dirk Bogarde, Stanley Baker, Michael Craig, Barbara Murray, James Robertson Justice, Athene Seyler, Robert Brown, John Laurie, Sid James, Mary Merrall, George Murcell, Stanley  Maxted, Gordon Tanner
Directed by
Ralph Thomas