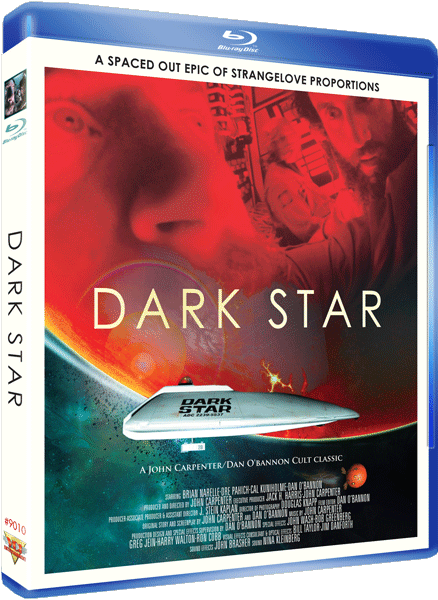 Sale!
Dark Star [Blu-ray]
John Carpenter and Dan O'Bannon's Sci-Fi Cult Classic Comes to Blu-ray at Last!
A story of four astronauts in deep space, whose mission is to destroy unstable planets in star systems that are to be colonized. This movie is a spaced out epic of Strangelove proportions.
Overview
In the mid twenty-first century, mankind has reached a point in its technological advances to enable colonization of the far reaches of the universe. DARK STAR is a futuristic scout ship traveling far in advance of colony ships. Armed with Exponential Thermosteller Bombs, it prowls the darkest reaches of space on a mission to seek out and destroy unstable planets ahead of the colonist. But there is one obstacle that its crew members did not count on — one of the ship's thinking and talking bombs is lodged in the bay, threatening to destroy the entire ship and crew! DARK STAR was originally intended to be a 68 minute film. Jack Harris, the Hollywood producer, convinced the filmmakers to shoot 15 minutes of extra footage and he released the expanded version theatrically in 1975 through Bryanston Pictures.
1974 | 83 min | Color | Optional English & Spanish Subtitles | 1.78:1/16×9 | PCM 2.0 &5.1 | All Region | Rated G
Special Features:
•  Let There Be Light: The Odyssey of Dark Star
•  Interview with Sci-Fi author Alan Dean Foster
•  Interview with Brian Narelle
•  3D Guide to the Dark Star Ship
•  Full-Length Audio Commentary by 'Super-Fan' Andrew Gilchrist
•  Written intro by Dan O'Bannon
•  Trivia
Review:
"… the whole movie gives one the feeling that many years went into making it… I give this movie five spoons." – Jack Margolis, Los Angeles Free Press
Actors
Brian Narelle, Dre Pahich, Dan O'Bannon, Cal Kuniholm
Directed by
John Carpenter and Assistant Director – J. Stein Kapla