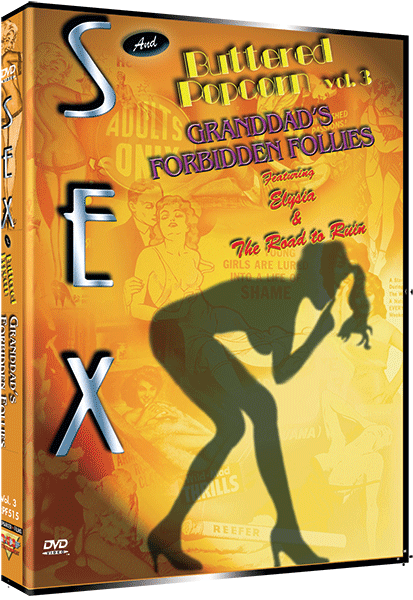 Sex and Buttered Popcorn Vol. 3 – Grandad's Forbidden Follies
Vintage Exploitation Films from our Sex and Buttered Popcorn series:
ELYSIA (Valley of the Nude): Discover the secrets of life at a nudist camp in this breakthrough film. In 1934 they tried everything to keep you from seeing it. Why? See for yourself! Remember, they wear only the wind!
THE ROAD TO RUIN: The "No-No's" of proper behavior were "yes-yes" to the promoters of this film. Good girl smokes marijuana, drinks booze and has intimate relations leading to…!
Overview
Sex and Buttered Popcorn Series: The wages of sin and the folks who earned them come to life in these two exploitation classics produced by some of Hollywood's greatest celluloid gypsies who touted three words: "For Adults Only!"
ELYSIA (Valley of the Nude): Discover the secrets of life at a nudist camp in this breakthrough film. In 1934 they tried everything to keep you from seeing it. Why? See for yourself! Remember, they wear only the wind!  1934|25 min.|B&W|1.37:1|NR
THE ROAD TO RUIN: The "No-No's" of proper behavior were "yes-yes" to the promoters of this film. Good girl smokes marijuana, drinks booze and has intimate relations leading to…!   1934|62 min|B&W|1.37:1|NR
SPECIAL FEATURES: "How to Undress in Front of Your Husband" (1934) Starring Mrs. John Barrymore; "Exposing the Nudist Racket" (1938);  Bit Player Bios
Actors
ELESIA: Constance Allen
THE ROAD TO RUIN: Helen Foster, Nell O'Day, Glen Boles, Robert Quirk
Directed by
ELYSIA: Carl Harbau
THE ROAD TO RUIN: Mrs. Wallace Reid (Dorothy Davenport), Melville Shyer