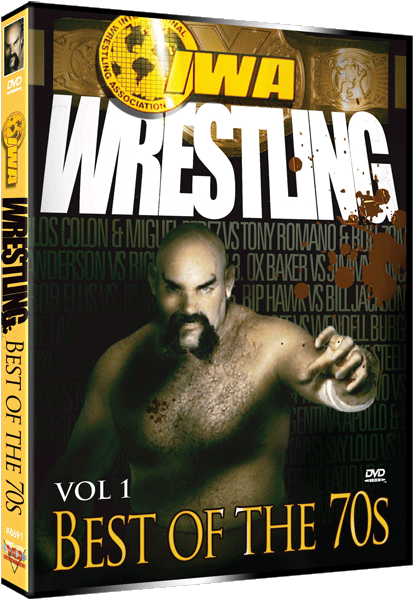 IWA Wrestling: Best of the 70's – Vol. 1
The IWA was the first wrestling promotion to have a television program nationwide. See wrestling stars from Mil Mascaras to Dick the Bruiser, to Ernie Ladd to Ivan Koloff — more wrestling legends than you can count in this 20-match DVD introduction to the world of IWA Wrestling.
Overview
The IWA was the first wrestling promotion to have a television program nationwide. Promoters Eddie Eihorn and Pedro Martinez put together a huge talent pool that would provide a national and international promotion with more stars than any other promotion had ever done. The list of stars in this first of many to come DVD series is like a who's who of the 1970's wrestling superstars. The IWA spared no expense to give the fans only the best. Jack Reynolds was a well noted and household name for his coverage of professional wrestling. Tex McKenzie not only wrestled, but also filled in as the color analyst. Ring announcing was handled by Rick Martin, who in real life was son of promoter, Pedro Martinez, his given name was Ronnie Martinez. They all provided professional insight and knowledge of the king of sports, professional wrestling. Not that Big Time Wrestling from Detroit had to take any back seats. Featured here are a few of the Big Time Wrestling moments with the wisdom of Veteran mic man Chuck Allen and his partner Terry Sullivan filling us in on the action and shows coming up and the latest news. But the bonus here is the Memphis match that features the silver tongue, Lance Russell. Russell was like a good friend telling you always what was on his mind. The guys on the "stick" were a huge part of thousands of Wrestling fans on Saturday morning and the golden era of the 70s.
2010 | 225 min | Color | 1.33:1/4×3  | Dolby Digital | All Region | NR
Special Features:
Pre-Match Interviews With:
Beautiful Bruce, Mighty Igor, Ivan Koloff, Bulldog Brower, George Cannon, Erik the Red, Dino Bravo, Luis Martinez, Vittorio Argentina Apollo, Cowboy Bob Ellis, Tex McKenzie, The Love Brothers, Al Costello
EXTRAS:
•  Mighty Igor arm wrestling before match
•  Dick the Bruiser and Ernie Ladd line up in a 3 point stance
•  Someone's Gonna Lose Some Hair!
Actors
Carlos Colon, Miguel Perez, Tony Romano, Bull Zomar, Lars Anderson, Rick Gardner, Ox Baker, Jimmy Lancaster,  Bob Ellis, Jimmy Moore, Rip Hawk, Bill Jackson, Jim Wilson, Ivan Koloff, Wendell Burgess, Joe Turko, Beverly Shade,
Bonnie Steele, Masked Beauty, Barb Owen, Mantell Brothers, Nelson Royal, Luis Martinez, Dino Bravo, Frenchy Martin, Goliath, Love Brothers, Argentina Apollo, Bulldog Brower, Islander Sika, Sky Lolo, Little Boy Blue, Gino Brito, Kurt Von Hess, Thunderbolt Patterson, Ernie Ladd, Erik the Red, Great Goliath, Mil Mascaras, Beautiful Bruce, Mongols, Mighty Igor
Directed by