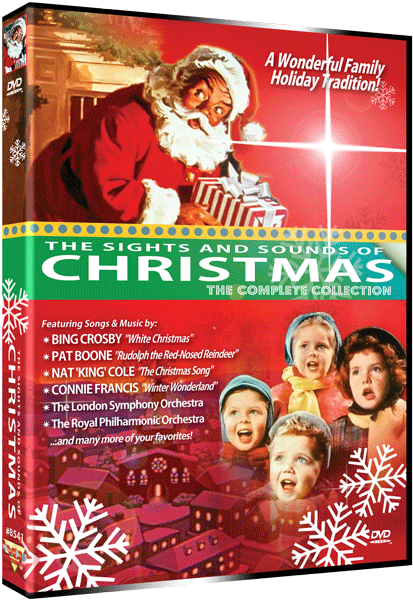 The Sights and Sounds of Christmas – The Complete Collection
A Christmas DVD Treasure!
A delightful program which rekindles your fondest memories… Santa Claus and his goodies, angel choirs, sparkling winters, glittering trees – 1000 spectacular scenes come to life set to the music of 23 of the most popular songs.  Including animated scenes.
Overview
Sure to become a part of your family's holiday tradition, THE SIGHTS AND SOUNDS OF CHRISTMAS rekindles your fondest memories… Santa Claus and his goodies, angel choirs, sparkling winters, glittering trees – 1,000 spectacular scenes come to life with 22 of the most popular songs and traditional carols ever recorded. This special DVD production promotes warm feelings of love and fellowship and will make the perfect accompaniment to any holiday gathering. This unique full length DVD production features a collection of pure classics including, "WHITE CHRISTMAS" sung by Bing Crosby, Nat King Cole's immortal "THE CHRISTMAS SONG," the delightful "WINTER WONDERLAND" by Connie Francis and Pat Boone's rendition of "RUDOLPH THE RED-NOSED REINDEER". You'll also enjoy inspiring carols by THE LONDON SYMPHONY ORCHESTRA as well as yuletide favorites from "THE NUTCRACKER" performed by THE ROYAL PHILHARMONIC ORCHESTRA, among many others. BONUS: Plus almost one hour worth of classic Christmas shorts including the Max Fleischer color cartoon "Rudolph the Red-Nosed Reindeer". Complete Song List: DECK THE HALLS… The London Symphony Orchestra WHITE CHRISTMAS… Bing Crosby JOLLY OLD ST. NICHOLAS… Arranged & Conducted by Kennard Ramsey HAVE YOURSELF A MERRY LITTLE CHRISTMAS… Arranged & Conducted by Bob Krogstad DANCE OF THE SUGAR PLUM FAIRY… The Royal Philharmonic Orchestra RUDOLPH THE RED-NOSED REINDEER… Pat Boone HARK! THE HERALD ANGELS SING… The London Symphony Orchestra WE WISH YOU A MERRY LITTLE CHRISTMAS… Arranged & Conducted by Kennard Ramsey WHAT CHILD IS THIS? (GREENSLEEVES)… The London Symphony Orchestra SILENT NIGHT…Arranged and Conducted by Bob Krogstad AWAY IN A MANGER… The London Symphony Orchestra IS THERE A PLACE… Steve Amerson O TANNENBAUM… The London Symphony Orchestra WINTER WONDERLAND… Connie Francis MARCH… The Royal Philharmonic Orchestra IN DULCI JUBILO… The London Symphony Orchestra O COME ALL YE FAITHFUL… The London Symphony Orchestra SANTA CLAUS IS COMIN' TO TOWN… Arranged and Conducted by Kennard Ramsey THE FIRST NOEL… The London Symphony Orchestra SLEIGH RIDE… Arranged and Conducted by Kennard Ramsey THE CHRISTMAS SONG… Nat King Cole JOY TO THE WORLD… The London Symphony Orchestra JOY TO THE WORLD… Eric Rogers Chorale
1986 | 70 min | Color | 1.33:1/4×3 | Dolby Digital | All region | NR
Special Features:
Silent Night
Christmas Customs Near and Far
Christmas Is
The City that Forgot Christmas
 When the Littlest Camel Knelt
The Stableboy's Christmas
Classic Christmas short Max Fleischer's color cartoon "Rudolph the Red-Nosed Reindeer"
Actors
Animation
Directed by
Animation