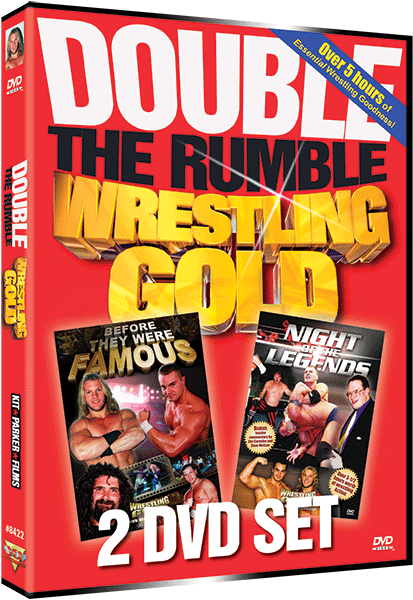 Wrestling Gold Combo: Before They Were Famous/Night of the Legends
Before They Were Famous: Chris Jericho, Eddie Gilbert,  The Gangstas, The Headbangers, The Heavenly Bodies, Jim Ross, Louie Spicolli, Mick Foley, New Jack, The Nightstalker, Ricky Morton, Robert Gibson, The Rock and Roll Express, Steve Armstrong, Tammy Fytch, and many more
Night of the Legends: Bob Orton, Jr., Bullet Bob Armstrong, Chris Candido, Chris Jericho, Jim Ross, Lance Storm, The Mongolian Stomper, The Rock and Roll Express, Ronnie Garvin, Tammy Fytch, Terry Funk, and many more
Plus:  Shoot commentaries by Jim Cornette and Dave Meltzer
Overview
BEFORE THEY WERE FAMOUS: Here's your chance to see some of wrestling's biggest names in action early in their careers in this rare footage not seen on television in almost 10 years. See who changed -and who didn't!  Who rose to the top-and why some fell to the side!  This volume contains history-making "firsts" and a fascinating look at the rookie years of future superstars! Each match introduced by Jim Cornette. Jim Ross and others call the action.
Chris Jericho, Eddie Gilbert,  The Gangstas, The Headbangers, The Heavenly Bodies, Jim Ross, Louie Spicolli, Mick Foley, New Jack, The Nightstalker, Ricky Morton, Robert Gibson, The Rock and Roll Express, Steve Armstrong, Tammy Fytch, and many more.
120 min | Color | 1.33:1 | NR
NIGHT OF THE LEGENDS: August 5th, 1994, fans packed Knoxville Tennessee's Civic Coliseum to see a celebration of the past, present and future.  Wrestling's biggest stars joined its future greats to hold an all-star card honoring the history of Knoxville wrestling.  This nearly 4 hour program includes every match, a ceremony inducting nearly two dozen former greats into the Knoxville Wrestling Hall of Fame, plus incredible rare archival footage and photos tracing the city's wrestling history back to almost 50 years ago, most not seen publicly in decades.
Bob Orton, Jr., Bullet Bob Armstrong, Chris Candido, Chris Jericho, Jim Ross, Lance Storm, The Mongolian Stomper, The Rock and Roll Express, Ronnie Garvin, Tammy Fytch, Terry Funk, and many more
219 min | Color | 1.33:1 | NR
SPECIAL FEATURE:  Shoot commentaries by Jim Cornette and Dave Meltzer
Actors
Directed by