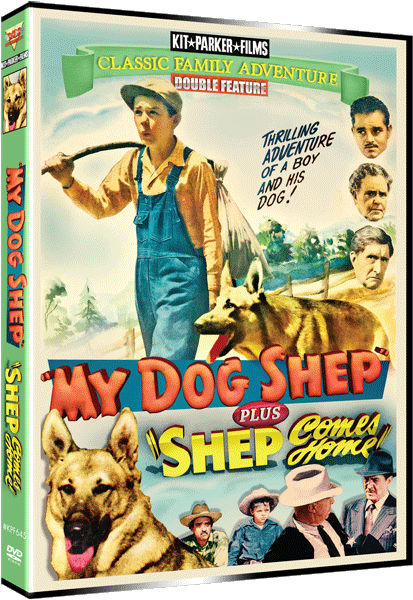 My Dog Shep/Shep Comes Home: Dog-Gone Double Feature
My Dog Shep:  An orphan and a Spanish War veteran, become tramps, the former because he is abused by relatives, the latter because his family plans to put him in a Soldier's Home. After the boy disappears, his relatives learn that he is heir to a fortune.
Shep Comes Home:  A boy whose father died in WWII, runs away from home to keep from being separated from "Shep," his father's dog. In Arizona, he is befriended by a kindly Mexican.  When his friend is suspected of crimes committed by local gangsters. "Shep" is instrumental in saving Ortiz from a lynching.
Overview
MY DOG SHEP:  An orphan (Lanny Rees) and a Spanish War veteran (William Farnum), become tramps, the former because he is abused by relatives, the latter because his family plans to put him in a Soldier's Home. After the boy disappears, his relatives learn that he is heir to a fortune, and offer a reward for his return. Two crooks, eager to get the reward, kidnap the boy, as well as a millionaire's daughter. Time for Shep (Flame, the Wonder Dog) to take over! 1946|71 min|B&W|1.33:1|NR
SHEP COMES HOME:  Little Larry Havens, whose father died in WWII, runs away from home to keep from being separated from "Shep," his father's dog. In Arizona, he is befriended by a kindly Mexican, Manuel Ortiz, who he is able to repay in time, with the aid of Sheriff "Cap" Weatherby. When Ortiz is suspected of crimes committed by local gangsters. "Shep" is instrumental in saving Ortiz from a lynching.  1948|63 min|B&W|1.33:1|NR