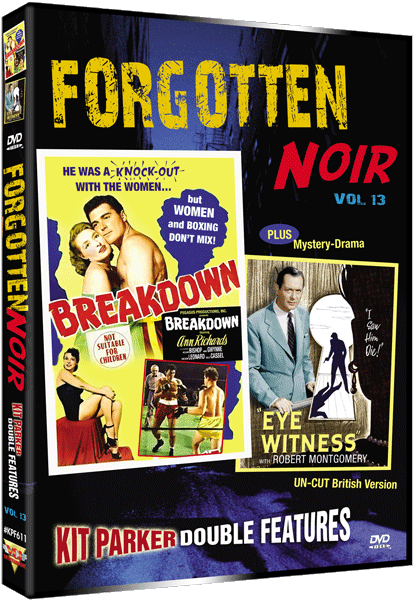 Forgotten Noir Vol. 13 – Eye Witness/Breakdown
Eye Witness (Your Witness) – Made in the Hitchcock style (and produced by longtime Hitchcock partner Joan Harrison), this witty English-made mystery/courtroom drama stars Robert Montgomery (who also directed) as a New York lawyer who comes to England to help a wartime pal (Michael Ripper) wrongly accused of murder.
Breakdown – There's action and drama in AND out of the ring when an ex-convict (William Bishop) becomes a rising heavyweight fighter and a championship contender–and then, on the eve of the big fight, finds the man who can prove that he was framed for the crime for which he served time.
Overview
EYE WITNESS (Your Witness) – Made in the Hitchcock style (and produced by longtime Hitchcock partner Joan Harrison), this witty English-made mystery/courtroom drama stars Robert Montgomery (who also directed) as a New York lawyer who comes to England to help a wartime pal (Michael Ripper) wrongly accused of murder. Who is the mysterious missing witness and will she be found in time to save a man's life? 1950|100 min.|B&W|1.33:1|NR
BREAKDOWN – There's action and drama in AND out of the ring when an ex-convict (William Bishop) becomes a rising heavyweight fighter and a championship contender–and then, on the eve of the big fight, finds the man who can prove that he was framed for the crime for which he served time. "The fight scenes hold the spectator on the edge of his seat"–Harrison's Reports. 1952| 76 min.|B&W|1.33:1
SPECIAL FEATURES:  Vintage Trailers