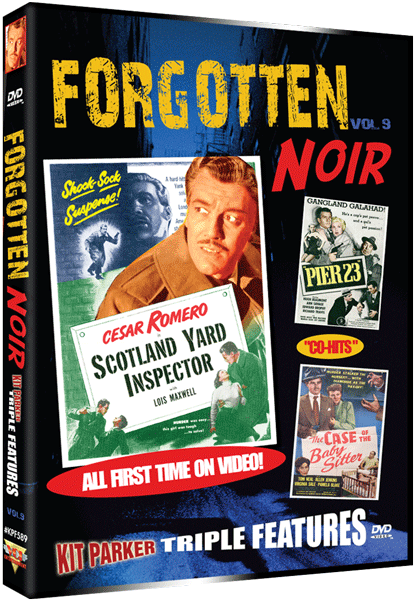 Forgotten Noir Vol. 9 – Scotland Yard Inspector/Pier 23/Case of the Baby-Sitter
Hammer Film's Scotland Yard Inspector – Cesar Romero stars in this Hammer Films mystery as a Yank newspaperman in London who sets out to solve a murder, American style.
Pier 23 – Two more "brushes with crime" for ace private detective Dennis O'Brien (Hugh Beaumont).
The Case of the Baby-Sitter – Jewel thieves, operating in the guise of a Duke and Duchess, hire the Ace Detective Agency to "baby sit" the infant they are using as a blind for their thefts.
Overview
SCOTLAND YARD INSPECTOR – Cesar Romero stars in this Hammer Films mystery as a Yank newspaperman in London who sets out to solve a murder, American style. The rest of the typically tangled plot includes assaults, a mysterious tape recording, a visit to an asylum and even a plot to steal an inventor's secrets! Lois Maxwell, the James Bond series' "Miss Moneypenny", co-stars. 1952|73 mins.|B&W|1.33:1
PIER 23 – Two more "brushes with crime" for ace private detective Dennis O'Brien (Hugh Beaumont). In the first, he gets mixed up with a crooked wrestling referee, an equally corrupt arena owner and murderous grappler Mike Mazurki. Next is a case involving a murdered cop and film noir's ultimate femme double-crosser, the unforgettable Ann Savage (Detour). 1951|59 min.|B&W|NR
THE CASE OF THE BABY-SITTER – Jewel thieves, operating in the guise of a Duke and Duchess, hire the Ace Detective Agency to "baby sit" the infant they are using as a blind for their thefts. A rival mob dopes the detective's dumb aide and make off with a valuable diamond. 1947|43 min.|B&W|NR
Details
Press reviews
:
SPECIAL FEATURES: SCOTLAND YARD INSPECTOR Featurette by Joel Blumberg; PAT NOVAK FOR HIRE - Radio program and source for Pier 23; trailers