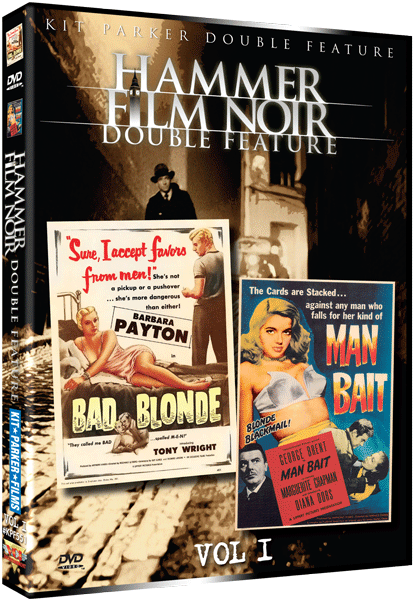 Hammer Noir Vol. 1 – Bad Blonde/Man Bait
BAD BLONDE (The Flanagan Boy) – Tony Wright is a prizefighter who goes from the ring to a fling with his promoter's wife, played by the baddest of '50s bad blondes, Barbara Payton. When Payton comes up pregnant, Wright realizes that only by eliminating one unneeded husband will Baby Make Three. Murder and mayhem ensue in this film noir takeoff on The Postman Always Rings Twice. 
MAN BAIT (The Last Page) – Diana Dors, a stick of blonde dynamite working as a clerk in an English book store, catches a customer attempting to steal a rare volume–but instead of hollering "Cop!," the two instead cook up a sinister scheme to blackmail the store manager (George Brent). 
Overview
BAD BLONDE (The Flanagan Boy) – Tony Wright is a prizefighter who goes from the ring to a fling with his promoter's wife, played by the baddest of '50s bad blondes, Barbara Payton. When Payton comes up pregnant, Wright realizes that only by eliminating one unneeded husband will Baby Make Three. Murder and mayhem ensue in this film noir takeoff on The Postman Always Rings Twice.  1953|79 min.|B&W|1.33:1|NR
MAN BAIT (The Last Page) – Diana Dors, a stick of blonde dynamite working as a clerk in an English book store, catches a customer attempting to steal a rare volume–but instead of hollering "Cop!," the two instead cook up a sinister scheme to blackmail the store manager (George Brent). One of Hammer Films' best noirs, helmed by their future horror specialist Terence Fisher. 1952|80 min.|B&W|1.33:1|NR
SPECIAL FEATURES:   The World of Hammer Noir Comments by Richard M Roberts; Bios; Trailers