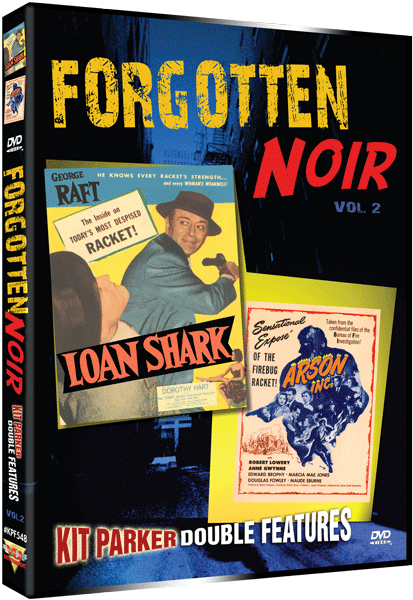 Forgotten Noir Vol. 2 – Loan Shark/Arson Inc.
Loan Shark – 1930s gangster great George Raft is an ex-convict now on the right side of the law in this tight-knit crime drama. When a loan-sharking mob preys on tire company workers, dishing out brutal beatings to the men who cannot repay their debts due to the huge interest payments, Raft goes undercover to find and expose Mister Big.
Arson, Inc. –  Los Angeles fireman Robert Lowery is assigned to the company's Arson Detail and begins checking into recent fires of suspicious origin–and the mysterious death of the investigator who had the job before him.
Overview
LOAN SHARK – 1930s gangster great George Raft is an ex-convict now on the right side of the law in this tight-knit crime drama. When a loan-sharking mob preys on tire company workers, dishing out brutal beatings to the men who cannot repay their debts due to the huge interest payments, Raft goes undercover to find and expose Mister Big. 1952|74 min.|B&W|1.33:1|NR
ARSON INC. –  Los Angeles fireman Robert Lowery is assigned to the company's Arson Detail and begins checking into recent fires of suspicious origin–and the mysterious death of the investigator who had the job before him. The red-hot trail leads Lowery to a cold-blooded pyromaniac (Edward Brophy), an undercover stint as a member of the arson mob and a fiery finish! 1949|64 min.|B&W|1.33:1|NR
SPECIAL FEATURES:  LOAN SHARK COMMENTARY by Richard M Roberts, INSIDE LIPPERT Part 1 as told by Robert L, Lippert Jr, , Movie Trivia, Photo Gallery, Bios, Original Theatrical Trailers