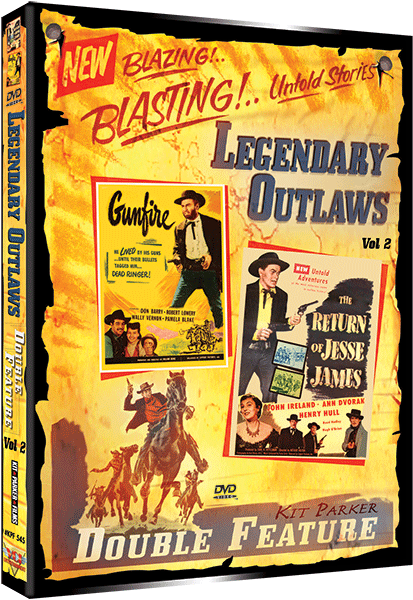 Legendary Outlaws Vol. 2 – Return of Jesse James/Gunfire
The Return of Jesse James: Johnny is a spitting image of the real Jesse, unfortunately for him; he is mistaken for him by a grizzled old member of the now deceased James gang. Johnny is convinced into leading a new gang to rob banks using the same infamous method as the famed outlaw. 
Gunfire: Bank, train and stagecoach heists, plus plenty of ridin' and shootin', pepper this sagebrush saga of a reorganized Jesse James gang, now under the leadership of a man impersonating Jesse's brother Frank James, terrorizing the Old West. 
Overview
RETURN OF JESSE JAMES: Johnny is a spitting image of the real Jesse, unfortunately for him; he is mistaken for him by a grizzled old member of the now deceased James gang. Johnny is convinced into leading a new gang to rob banks using the same infamous method as the famed outlaw. Jesse's brother Frank decides to put a stop to the defamation of his dead brother's name. Johnny and his gang run into trouble when they try to rob the same two banks, simultaneously; which gang will come out alive? 1950|77 min.|B&W:1.33:1:NR
GUNFIRE: Bank, train and stagecoach heists, plus plenty of ridin' and shootin', pepper this sagebrush saga of a reorganized Jesse James gang, now under the leadership of a man (Donald Barry) impersonating Jesse's brother Frank James, terrorizing the Old West. Can sheriff Robert Lowery pierce Barry's disguise and put the renegades behind bars? 1950|59 min.|B&W|1.33:1|NR
SPECIAL FEATURES: Photo Gallery; Bios; Trailers