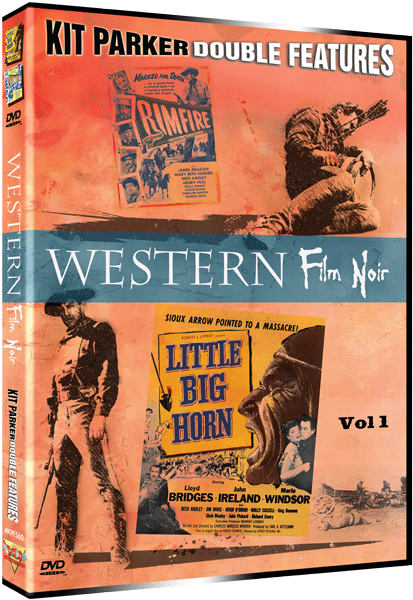 Western Film Noir Double Feature – Little Big Horn/Rimfire
Little Big Horn is the story of a Cavalry patrol that discovers a horde of Indians ready to ambush Custer's 7th Cavalry. They set out to warn Gen. Custer that he is about to embark on a mission of virtual suicide. Gritty and extremely well-acted character studies set this version apart from the familiar telling of a tragedy from U.S. history.
Rimfire: The western setting is incidental in this unglamorous, well-written, tale of mystery and suspense. The story involves the death by hanging of The Abilene Kid, who is innocent of all charges.  After death "the Kid" returns to kill off all of those who sentenced him to be hanged.
Overview
LITTLE BIG HORN is the story of a Cavalry patrol that discovers a horde of Indians ready to ambush Custer's 7th Cavalry. They set out to warn Gen. Custer that he is about to embark on a mission of virtual suicide. Gritty and extremely well-acted character studies set this version apart from the familiar telling of a tragedy from U.S. history. 1951 | 86 min* | B&W | 1.33:1 | NR
RIMFIRE the western setting is incidental in this unglamorous, well-written, tale of mystery and suspense. The story involves the death by hanging of The Abilene Kid, who is innocent of all charges.  After death "the Kid" returns to kill off all of those who sentenced him to be hanged. 1949 | 64 min* | B&W | 1.33:1 | NR
SPECIAL FEATURES: Original theatrical trailer – Little Big Horn, Bios, Robert L. Lippert Sr. biography and Filmography, Trailers, Rimfire liner notes by Sam Sherman, Trivia, Advertising Gallery, "Little Big Horn" Extensive Still Gallery
*Plus Special Features