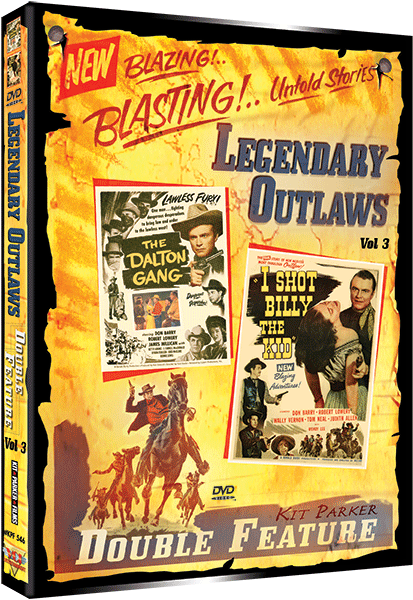 Legendary Outlaws Vol. 3 – The Dalton Gang/I Shot Billy the Kid
The Dalton Gang: Deputy Marshal West (Don Barry) arrives in Rincon to investigate the murders of several ranchers. Blackie Mullet, the leader of a gang working for the local land-and-water company; tries to convince Marshal West that Indians are responsible for the killings. 
I Shot Billy the Kid:  Recounts Garrett and Billy's explosive relationship, and the events leading up to their final, fatal confrontation. 
Overview
THE DALTON GANG: Deputy Marshal West (Don Barry) arrives in Rincon to investigate the murders of several ranchers. Blackie Mullet (Robert Lowery), the leader of a gang working for the local land-and-water company; tries to convince Marshal West that Indians are responsible for the killings, while West's old friend newspaper editor Amos Boling (Byron Foulger) and his assistant Polly Medford (Julie Adams) tell him they suspect that Blackie is actually head of the infamous Dalton gang.  1949|60 min.|B&W|1.33:1|NR
I SHOT BILLY THE KID: Western history buffs will recall that Billy the kid was gunned down by his friendly enemy Pat Garrett. In this story, Garrett is played by Robert Lowery, while the larger part of Billy is essayed by Don Barry. The story recounts Garrett and Billy's explosive relationship, and the events leading up to their final, fatal confrontation.  1951|62 mins.|B&W|1.33:1|NR
SPECIAL FEATURES:  Photo Gallery; Bios; Trailers