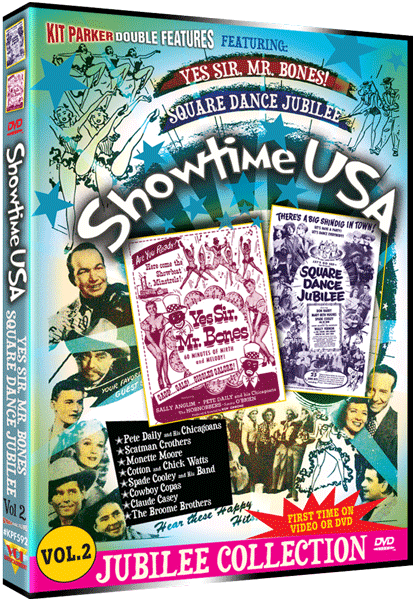 Showtime U.S.A. Double Feature Vol. 2
Yes Sir, Mr. Bones! – Songs (including "Is Your Rent Paid Up in Heaven?"), buck-and-wing and softshoe are all part of the nostalgic fun.  Cotton & Chick Watts, Ches Davis, F.E. Miller, Billy Green and the Hobnobbers.
Square Dance Jubilee: New York television talent scouts (Don "Red" Barry and Wally Vernon) head west to look for musical talent for Spade Cooley's TV show and find plenty–and even help round up some cattle rustlers! With a whopping 21 songs.
Overview
YES SIR, MR. BONES!: A young boy wanders into a home for old minstrel men and wants to know more about them, cueing the oldsters to tell HIM (and the Lords of Flashback to show US) a performance from the days of riverboat shows. Songs (including "Is Your Rent Paid Up in Heaven?"), buck-and-wing and softshoe are all part of the nostalgic fun. 1951:54 min|B&W|1.33:1|NR
SQUARE DANCE JUBILEE: New York television talent scouts (Don "Red" Barry and Wally Vernon) head west to look for musical talent for Spade Cooley's TV show and find plenty–and even help round up some cattle rustlers! With a whopping 21 songs, this one "stacks up as a strong entry in western music market…crackerjack exploitation potential" (Variety). 1951|80 min|B&W|1.33:1|NR
SPECIAL FEATURES: Yes Sir, Mr. Bones! and Square Dance Jubilee commentaries by film historians Richard Roberts, Brent Walker and Randy Sketvedt; Technicolor Featurette: The Shortest Way Home (1946), Square Dance Jubilee, Deleted Scenes, Original Theatrical Trailer: Kentucky Jubilee; Trailers