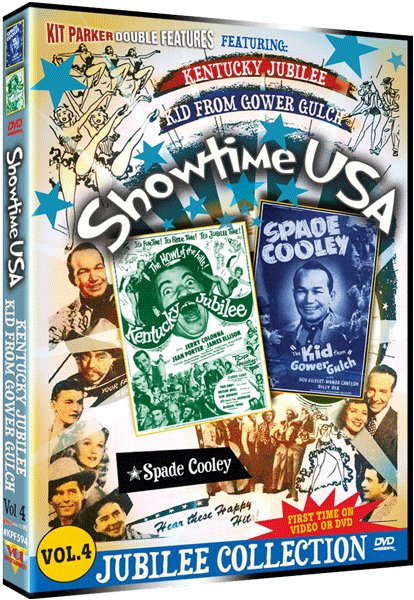 Showtime U.S.A. Double Feature Vol. 4
Kentucky Jubilee: A wild potpourri of hillbilly singers, dancers and specialty acts (including the Y-Knot Twirlers!); strung together by a crazy plot that involves a pop-eyed emcee (funnyman Jerry Colonna).
The Kid From Gower Gulch: Spade Cooley plays a singing-western movie star who can neither sing nor ride, but a rancher believing that Spade is the real deal, bets 500 cattle that he can win a rodeo contest!
Overview
KENTUCKY JUBILEE: A wild potpourri of hillbilly singers, dancers and specialty acts (including the Y-Knot Twirlers!), strung together by a crazy plot that involves a pop-eyed emcee (funnyman Jerry Colonna), a reporter (James Ellison), an actress (Jean Porter), a kidnapped movie director (Fritz Feld), a blackmailer and even an attempted bank robbery. 1951|71 min|B&W|1.33:1|NR
THE KID FROM GOWER GULCH: Spade Cooley is a singing-western movie star who can neither sing nor ride, but a rancher (Jack Baxley), believing that Spade is the real deal, bets 500 cattle that he can win a rodeo contest with Spade's help. Then Spade's stuntman/double (Bob Gilbert) pulls a double-cross and rides for the other side. The rancher's pretty daughter , Peggy (Wanda Cantlon), pleads with Spade to come through. Wanda Cantlon was Lucille Ball's double and stand-in for several years. The film also features the great Richard Farnswroth (as Cooley's actual riding double) and also stunt-greats Bob Woodward and Boyd Stockman.  Ultra low-budget production filmed in 16mm Kodachrome.  1950|64 min|Color|1.33:1|NR
SPECIAL FEATURES:  Kid From Gower Gulch commentary by production assistant Arthur A. Jacobs; Behind the Scenes: The Kid From Gower Gulch; Short Subjects: "Foto Facts #2" (1947); "Hold "em Cowboy" (1940s)