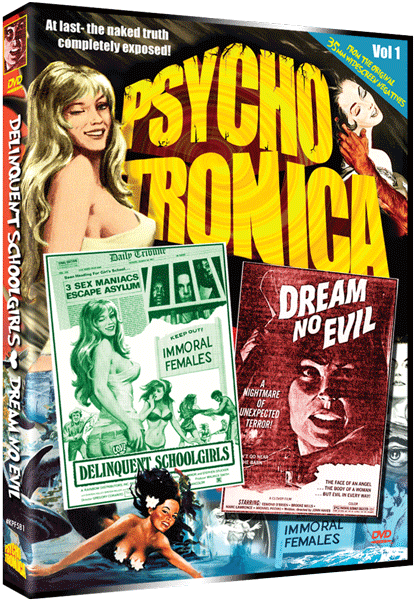 Psychotronica Vol. 1 – Delinquent Schoolgirls/Dream No Evil
DELINQUENT SCHOOLGIRLS: Our protagonists in this K-Mart budgeted cult film are escapees from an insane asylum!  One is an ex-baseball player turned rapist, another is gay, and the ringleader is a low-rent impressionist.  When they stumble upon an all-girls school, antisocial behavior with these siliconed "students" ensues, but with a twist — the busty babes know karate!
DREAM NO EVIL: A deranged young woman searches for her non-existent father, when "Daddy" comes to life on a morgue galley he scalpels his mortician to death!
Overview
DELINQUENT SCHOOLGIRLS: Our protagonists in this K-Mart budgeted cinematic carrion are escapees from an insane asylum!  One is an ex-baseball player turned rapist, another is gay, and the ringleader is a low-rent impressionist.  When they stumble upon an all-girls school, antisocial behavior with these siliconed "students" ensues, but with a twist – the busty babes know karate! Dream No Evil: Don't pay any attention to the turtleneck-sweatered snobs who demand that the negative to this classic be burned.  It does have a script, kind of, even if it appears to have been written as they filmed.  A deranged young woman searches for her father, and every time the continuity becomes too confusing a narrator comes on to save the day with "explanations."   With lines like, "your duck is bleeding really badly," you can't pass this up!  1972|89 min|Color|1.85:1/widescreen|NR
DREAM NO EVIL: A deranged young woman searches for her non-existent father, when "Daddy" comes to life on a morgue galley he scalpels his mortician to death! Don't pay any attention to the turtleneck-sweatered snobs who demand that the negative to this classic be burned. It does have a script, kind of, even if it appears to have been written as they filmed. A deranged young woman searches for her father, and every time the continuity becomes too confusing a narrator comes on to save the day with "explanations."   With lines like, "your duck is bleeding really badly," you can't pass this up! 1970|74 min|Color|1.85:1/widescreen|Rated R
SPECIAL FEATURES:  Delinquent Schoolgirls Commentary by actor Bob Minor moderated by Elijah Drenner