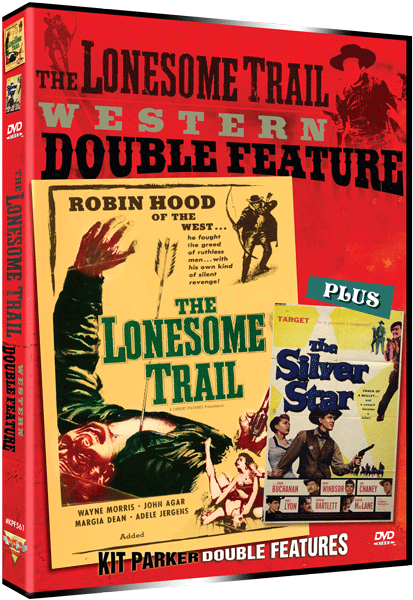 Western Double Feature – Lonesome Trail/Silver Star
The Lonesome Trail: Slow with a gun after being injured by a land-grabbing outlaw gang, Army veteran John Agar remains determined to reclaim his ranch. , and his neighbors', from the badmen. He finds that he is proficient with bow and arrow and is soon matching the badmen arrow for bullet in the battle to give the land back to its rightful owners.
The Silver Star: A man whose father and grandfather both died while wearing a sheriff's badge, has just been reluctantly elected lawman, but refuses to fight! even when challenged by sidewinder Richard Bartlett. Will retired sheriff have to strap his guns back on to pick up Lyon's slack?
Overview
THE LONESOME TRAIL: Slow with a gun after being injured by a land-grabbing outlaw gang, Army veteran John Agar remains determined to reclaim his ranch. , and his neighbors', from the badmen. He finds that he is proficient with bow and arrow and is soon matching the badmen arrow for bullet in the battle to give the land back to its rightful owners. 1955|73 min| B&W|1.85:1 (widescreen)|NR
THE SILVER STAR: A man whose father and grandfather both died while wearing a sheriff's badge, has just been reluctantly elected lawman, but refuses to fight! even when challenged by sidewinder Richard Bartlett. Will retired sheriff have to strap his guns back on to pick up Lyon's slack? Lyon also produced and Bartlett directed this suspenseful, well-cast Western drama. 1955|73 min|B&W|1.85:1 (widescreen)|NR
SPECIAL FEATURES: Interview with Producer and Star, Earle Lyon; Bios; Trivia; Trailers