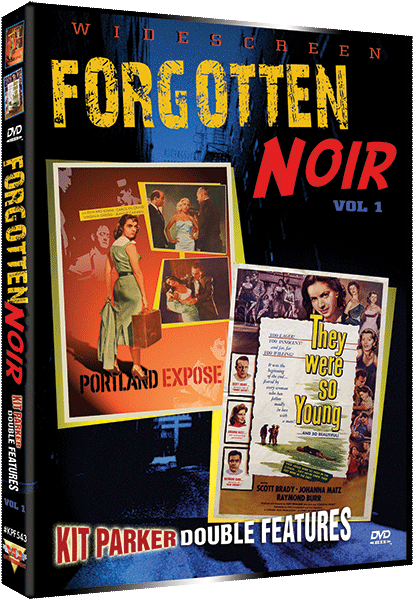 Forgotten Noir Vol. 1 – Portland Expose/They Were So Young
Portland Expose – In the 1950's LIFE Magazine printed a blistering exposé on the rampant sin, crime and Teamsters-controlled corruption that at the time had a stranglehold on Portland, Oregon.  Although the film crew was threatened with physical violence, the result is a dark and gritty filmed-on-location crime drama that contains considerable violence for a 1950's movie, most notably a violent rape scene with the Frank Gorshin character and a teenage girl.
They Were So Young – Five beautiful European models arrive in Rio under contract to a fashion house secretly owned by a wealthy Brazilian (Raymond Burr), and quickly learn that their duties have more to do with "entertaining men" than modeling.
Overview
PORTLAND EXPOSÉ – In the 1950's LIFE Magazine printed a blistering exposé on the rampant sin, crime and Teamsters-controlled corruption that at the time had a stranglehold on Portland, Oregon.  Producer Lindsley Parsons seized upon the considerable publicity and assembled a cast of great character actors for the starring roles.  Although the film crew was threatened with physical violence, the result is a dark and gritty filmed-on-location crime drama that contains considerable violence for a 1950's movie, most notably a violent rape scene with the Frank Gorshin character and a teenage girl. 1957|72 min.|B&W|1.85:1/Widescreen|NR
THEY WERE SO YOUNG – Five beautiful European models arrive in Rio under contract to a fashion house secretly owned by a wealthy Brazilian (Raymond Burr), and quickly learn that their duties have more to do with "entertaining men" than modeling. Set in Brazil but actually shot in the swamps and jungles of Italy, "the film is extremely interesting scenically" (Variety). 1954|80 min.|B&W|1.85:1/Widescreen|NR
SPECIAL FEATURES:  PORTLAND EXPOSE COMMENTARY by Assistant Director Lindsley Parsons, Jr.; Original Theatrical Trailers, Bios, Photo Gallery, Advertising Materials