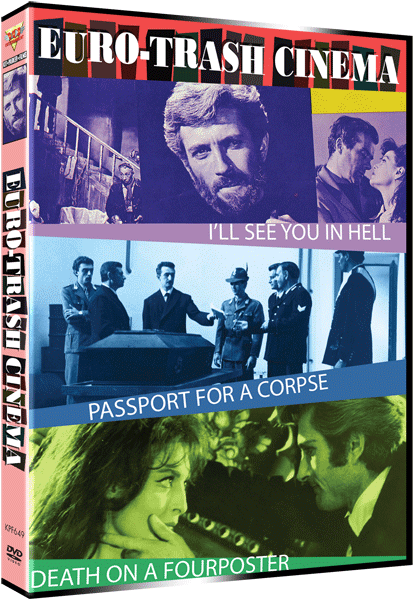 Euro-Trash Triple Feature
I'll See You in Hell – Walter and Al are not only jewel thieves and killers, they're also good at math! While hiding in a swamp from authorities, they conclude that a two-way split beats a three-way as they watch their partner-in-crime, Sam, disappear into quicksand. But is he really dead?
Passport for a Corpse  – The sole-surviving member of a payroll heist gang, Marco attempts to escape into France on foot–until he happens upon an unattended hearse and takes the dear departed's place in the coffin. But his luck remains par for the corpse!
Death on the Fourposter – A group of swinging young singles are living la dolce vita until their weekend excursion to a countryside castle (complete with spooky housekeeper and secret passageways), where fun and games are set aside in favor of a séance and other weird goings-on.
Overview
I'll See You in Hell (Ti aspetterò all'inferno) – Walter and Al are not only jewel thieves and killers, they're also good at math! While hiding in a swamp from authorities, they conclude that a two-way split beats a three-way as they watch their partner-in-crime, Sam, disappear into quicksand. But is he really dead? In a remote farmhouse they hide out, strange things begin to indicate that Sam may have escaped oozing death…or is he diabolically haunting them from beyond? – 1960|73 min.|B&W|1.37:1|NR
Passport for a Corpse (Lasciapassare per il morto) – The sole-surviving member of a payroll heist gang, Marco attempts to escape into France on foot–until he happens upon an unattended hearse and takes the dear departed's place in the coffin. But his luck remains par for the corpse! Now he must struggle to survive, first in the coffin and next in a frigid morgue! Passport for a Corpse morbidly mixes crime thriller, noir, horror and even fantasy, with a mystical Laughing Woman (representing Destiny) materializing everywhere the desperate Marco's misfortunes take him. 1962|74 min.|B&W|1.37:1|NR
Death on the Fourposter (Delitto allo specchio) – A group of swinging young singles are living la dolce vita until their weekend excursion to a countryside castle (complete with spooky housekeeper and secret passageways), where fun and games are set aside in favor of a séance and other weird goings-on. The cool cats and their canaries soon learn that murder stalks the castle halls in this pioneering thriller in the Italian giallo (mystery-horror) genre! 1964|B&W|1.37:1|NR