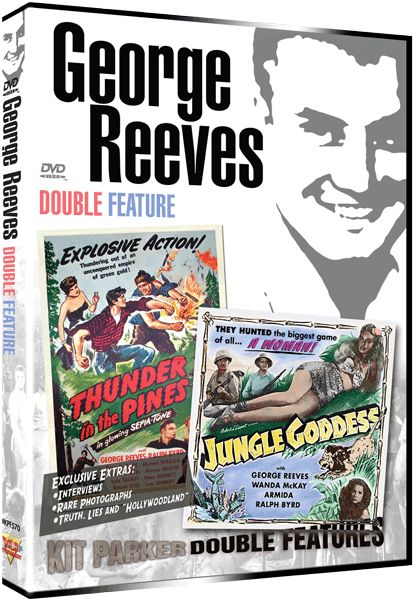 George Reeves Double Feature
Thunder in the Pines: Action and comedy abound in this buddy movie with George "Superman" Reeves and Ralph "Dick Tracy" Byrd locking horns in a north woods logging camp over the hand of a fickle mail order bride!
Jungle Goddess: A plane carrying the young daughter of a millionaire crashes into an African jungle.  The girl survives and the rescuing natives proclaim her their "White Goddess." Six years later, two flyers locate the girl…and then the trouble begins!
Overview
THUNDER IN THE PINES: Action and comedy abound in this buddy movie with George "Superman" Reeves and Ralph "Dick Tracy" Byrd locking horns in a north woods logging camp over the hand of a fickle mail order bride! |1948|60 minl.|Sepiatone|1.33:1, NR
JUNGLE GODDESS: A plane carrying the young daughter of a millionaire crashes into an African jungle.  The girl survives and the rescuing natives proclaim her their "White Goddess." Six years later, two flyers locate the girl…and then the trouble begins! 1948|64 min.|B&W|1.33:1|NR
SPECIAL FEATURES: "The Life and Legacy of George Reeves" – a documentary by Capricorn Entertainment which features Thunder in the Pines & The Jungle Goddess by Jan Alan Henderson, "George Reeves: His Life and Legacy" by Carl Glass, "The George Reeves Memorial" by Steven Kirk, "George Reeves as I Know Him" by Jim Nolt,  "At Least It's Better Than a C" by Lou Koza, Song: Oh, George by Richard C Potter, Hollywoodland – "Flight of the Innocent" by Lou Koza, Photo Gallery of George Reeves, Bios, Trailers