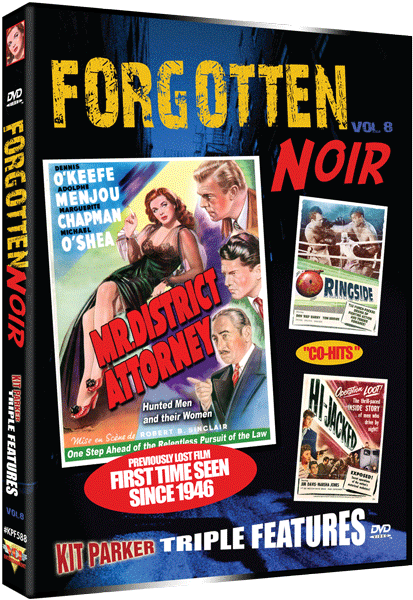 Forgotten Noir Vol. 8 – Mr. District Attorney ('47)/Ringside/Hi-Jacked
Mr. District Attorney (1947) – From Phillips H. Lord's popular NBC radio series comes an intriguing "legal film noir" filled with double-crosses and unusual twists.
Ringside – Middleweight boxer works his way up to a title fight, and loses it and his eyesight when the champion seeing that his opponent is blind in one eye goes to work on the other one!
Hi-Jacked – Parolee/truck driver Jim Davis now wants to stick to the straight-and-narrow, but finds himself riding a highway of terror when his truck is hijacked and police suspect him because of his past record.
Overview
MR. DISTRICT ATTORNEY (1947) – From Phillips H. Lord's popular NBC radio series comes an intriguing "legal film noir" filled with double-crosses and unusual twists–starting in the opening reel when a woman is slain in her apartment to an escaped killer, and the paper prints that the alive-and-well girlfriend (Marguerite Chapman) of a local crime boss was the victim. 1947|71min.|B&W|1.33:1|NR
RINGSIDE – Middleweight boxer works his way up to a title fight, and loses it and his eyesight when the champion seeing that his opponent is blind in one eye goes to work on the other one! His brother decides to avenge him by taking up boxing himself and…and eye for an eye? 1949|63 min.|B&W:1.33:1|NR
HI-JACKED – Parolee/truck driver Jim Davis now wants to stick to the straight-and-narrow, but finds himself riding a highway of terror when his truck is hijacked and police suspect him because of his past record. The hijackers will stop at nothing to frame him–and even frame his wife! — unless fugitive Davis can deliver them to justice himself. 1950|61 min.|B&W|1.33:1|NR
SPECIAL FEATURES:  LORD OF THE RADIO Part 2 (Jean Lord Greenlaw interview, with Richard Roberts); MR. DISTRICT ATTORNEY Radio Program