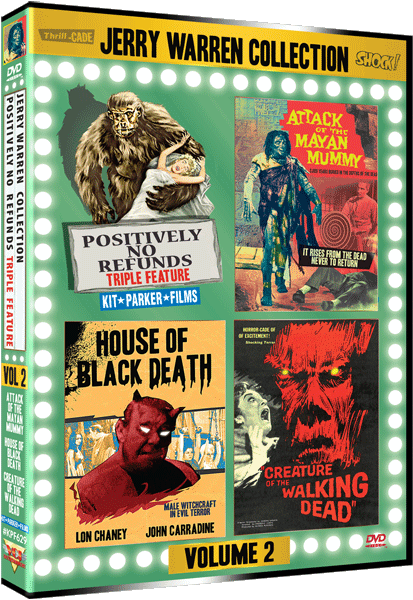 Jerry Warren Vol. 2 – House of the Black Death/Attack of Mayan Mummy/Creature of the Walking Dead
House of the Black Death: Warlock and his brother battle for dominion over the creepy House of Desard
Attack of the Mayan Mummy:  A young woman who describes a previous incarnation among the ancient Mayans.
Creature of the Walking Dead:  The blood of a kidnapped girl is used to resurrect a man.
Overview
Move over, Ed Wood: In the Fabulous Fifties and beyond, no producer-director-writer worked the bottom of the genre barrel quite like Jerry Warren. Have a multi-megaton blast with this trio of Warren's battiest Z-movie bombs.
A native of LaLaLand, Jerry Warren (1925-1988) grew up in the shadows of the studios aspiring to work in show biz, and did – first as a movie bit player and then, behind the camera, as a triple-threat (and we DO mean "threat") sultan of shoestring schlock. From Abominable Snowmen and Teenage Zombies to Batwoman, "Nobody Does It Badder" than Warren, who achieved towering success at living up to his moviemaking motto: "I never, ever tried in any way to make anything worthwhile."
HOUSE OF THE BLACK DEATH (Blood of the Man Devil): Warlock Belial Desard (Lon Chaney Jr. with forehead horns) and his brother Andre (John Carradine) battle for dominion over the creepy House of Desard, which includes Andre's son (Tom Drake) who thinks he's a werewolf. This HOUSE is a result of one group of hack filmmakers making half a movie and a DIFFERENT group of hacks unsuccessfully attempting to finish the job. Complete viewer bewilderment is unconditionally guaranteed!  1965|89 min.|B&W|1.85:1 (widescreen)|NR
ATTACK OF THE MAYAN MUMMY: A doctor tells a newspaper editor (via flashbacks) about a research center's experiments in hypnotic regression, conducted on a young woman who describes (now in flashbacks WITHIN flashbacks) a previous incarnation among the ancient Mayans in Yucatan. Meanwhile, and somehow related, a long-haired mummy prowls 20th-century streets! "Momia Azteca" Mexi-madness collides with Jerry Warren framing scenes in this jumbled jamboree of science and the supernatural!  1964|87 min|b&w|1.85:1 (widescreen)|NR
CREATURE OF THE WALKING DEAD: A scientist steals his grandfather's body from a mausoleum and, in a secret lab, uses the blood of a kidnapped girl to resurrect him; Gruesome Grandpappy takes it from here. This Mexi-melodrama was later "Hollywood-enhanced" by the addition of new Jerry Warren-directed footage in which junk-film favorites Katherine Victor and Bruno VeSota pretend to be part of the other proceedings! Many grisly touches and a great, bombastic score highlight the original Mexi-movie.  1964|74 min|B&W|1.85:1|NR
SPECIAL FEATURE:  Audio interview with Geraldine Brianne Murphy, the former Mrs. Jerry Warren, and noted cinematographer (reenactment)