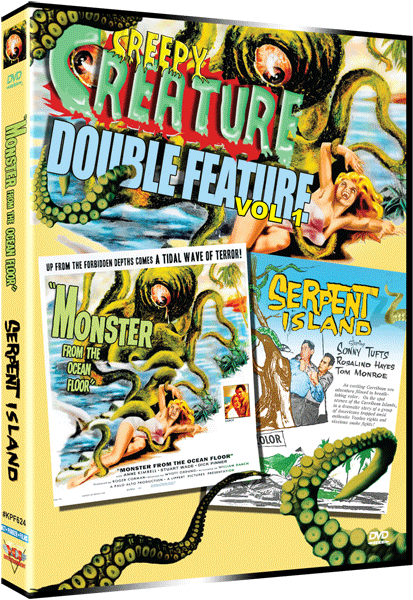 Sale!
Creepy Creatures Vol. 1 – Monster from the Ocean Floor/Serpent Island
Monster From the Ocean Floor:  Hollywood's legendary maverick Roger Corman made his monster-movie debut as producer of this ultra-low-budget, eerie fright flick. "A well-done quickie"–Variety
Serpent Island:  The jungles are echoing with the sound of voodoo drums, the locals are licking their native chops and there are 'snakes on a plane'-o-plenty! Packed with flubs, stock footage–and Sonny Tufts. If laughter were food, this would be a full-course meal for Worst Films connoisseurs!
Overview
Roger Corman's MONSTER FROM THE OCEAN FLOOR: Reports that a Mexican fishing village is terrorized by a creature that lives in the cove draw the attention of a scientist (Stuart Wade) with a one-man submarine and a beautiful tourist (Anne Kimbell), who descend into the dark waters to investigate. Hollywood's legendary maverick Roger Corman made his monster-movie debut as producer of this ultra-low-budget, eerie fright flick. "A well-done quickie"–Variety.  1954 | 65 min* | B&W | 1.33:1 | NR
SERPENT ISLAND: On the trail of a million-dollar gold treasure, an Eastern gal (Mary Munday) hires a California dockside bum (Sonny Tufts) to accompany her to the Caribbean where one of her ancestors reportedly buried the booty. Soon the jungles are echoing with the sound of voodoo drums, the locals are licking their native chops and there are 'snakes on a plane'-o-plenty! Packed with flubs, stock footage–and Sonny Tufts. If laughter were food, this would be a full-course meal for Worst Films connoisseurs! (Filmed in 16mm Kodachrome on a $18,000 budget!) 1954 | 63 min* | Color | 1.37:1 | NR
SPECIAL FEATURES: Audio Interview with Roger Corman by Tom Weaver;  Deleted Scenes from "Monster From the Ocean Flo0or"; Trivia; Theatrical Trailer
*Plus Special Features
Actors
MONSTER FROM THE OCEAN FLOOR: Anne Kimbell, Stuart Wade, Dick Pinner, Wyott Ordung, Inez Palange, David Garcia
SERPENT ISLAND: Sonny Tufts, Mary Munday, Tom Monroe, Rosalind Hayes, Don Blackman
Directed by
MONSTER FROM THE OCEAN FLOOR: Wyott Ordung
SERPENT ISLAND: Tom Gries