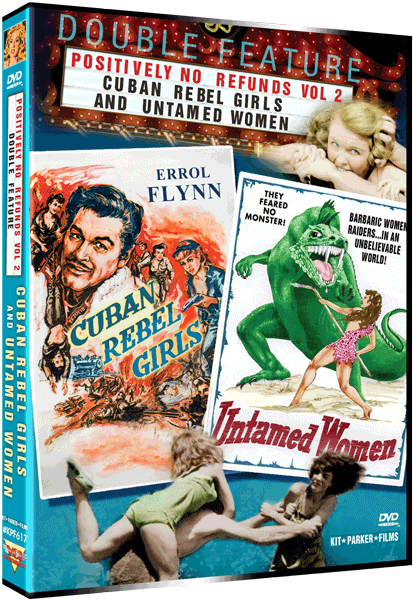 Positively No Refunds Double Feature – Cuban Rebel Girls/Untamed Women
Cuban Rebel Girls: High on "Worst Films" lists but low on the résumé of legendary swashbuckler Errol Flynn, this no-budget semi-documentary.
Untamed Women: Cult rites, a hostile tribe of Neanderthal men and mucho giant-lizard footage from One Million B.C. put this near the top of the list of "island of lost women" disaster pieces.
Overview
CUBAN REBEL GIRLS: High on "Worst Films" lists but low on the résumé of legendary swashbuckler Errol Flynn, this no-budget semi-documentary provided the actor with his humiliating screen epitaph. Playing himself, he is seen working as a correspondent arriving in Cuba to interview Fidel Castro. Go over-the-mountains with over-the-hill Flynn and see troop skirmishes, a raid and sugar cane field fires–and get an eyeful of his 16-year-old "protégé" Beverly Aadland as the American girlfriend of a Cuban mercenary. I don't think we're in Sherwood Forest any more, Toto! 1952|66 mins|B&W|1.33:1|NR
UNTAMED WOMEN: When an Air Force plane goes down in mid-ocean, its captain (Mikel Conrad) and his three-man crew wash ashore on an uncharted island of fur-clad cuties (descended from the Druids) led by high priestess Sandra (Doris Merrick). Cult rites, a hostile tribe of Neanderthal men and (of course) mucho giant-lizard footage from One Million B.C. put this near the top of the list of "island of lost women" disaster pieces. 1952|B&W|1.33:1|NR