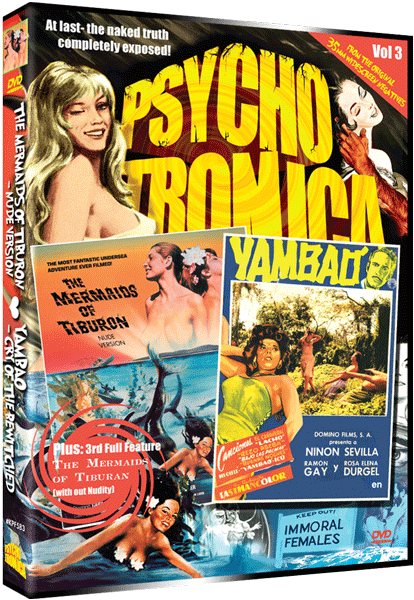 Psychotronica Vol. 3 – Mermaids of Tiburon/Yambao
Mermaids of Tiburon – Director's Cut:  Fantasy about mermaids (bare-chested Gaby Martone, Diane Webber, among others) who assist…and distract…a young scientist in his quest for sunken treasure, complete with Timothy Carey at his menacing best.
Yambaó: Supernatural thriller about a beautiful witch's arrival at a Mexican village that unfortunately coincides with a plague.
Overview
THE MERMAIDS OF TIBURON – Director's Cut: This film was produced and directed in 1962 as a fantasy-adventure by noted underwater cinematographer, John Lamb.  Two years later, he chopped out 10 minutes, re-shot the close-ups and medium shots of the mermaids; revealing the enchantresses in the nude (with emphasis on actress Gaby Martone), and released it as "The Aqua Sex ".  Twenty-three years later, Lamb took the time to re-edit his epic like he really wanted and, just to make sure, added additional nude footage using glamour model Diane Webber! The result is a beautifully photographed fantasy about mermaids who assist…and distract…a young scientist in his quest for sunken treasure, complete with Timothy Carey at his menacing best.  Filmed in the pearl garden of Mexico's La Pez, and the kelp forest along the coast of Santa Catalina.  1987|76 min|Color|1.85:1/widescreen|NR
YAMBAO (Cry of the Bewitched): Sultry, cat-like, dancer-turned-actress Ninón Sevilla plays "Yambaó" in this classic Mexican psychological thriller.  She arrives at a Cuban sugar plantation in 1850, at the same time the nearby village is hit with a plague!  Guess who the villagers blame for the pestilence?  Of course, it could just have been a misunderstanding, or just bad timing.  But, the plot definitely thickens when it is revealed that her departed grandmother was a sorceress! Filmed simultaneously in English and Spanish.  1957|80 min|Color|1.85:1/widescreen|NR
SPECIAL FEATURES: Mermaids of Tiburon: Original 1962 version; Introduction by Elijah Drenner; Original Theatrical Trailers for three different release versions. Yambao Alternate Spanish sound track; English and Spanish Trailers