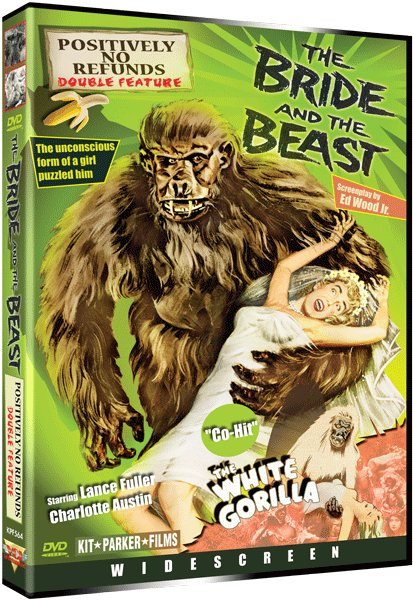 Bride and the Beast/White Gorilla Double Feature
The Bride and the Beast –  is a supernatural drama of terror and scientific fiction produced and directed by Adrian Weiss. The script was written by none other than Edward D. Wood Jr.  It's revealed through hypnosis that a woman was Queen of the Gorillas in a previous incarnation.
WHITE GORILLA – A white gorilla is snubbed by black gorillas because he is the wrong color. Cut off from his tribe he becomes lonely and angry. After troubling hunters and natives, the white gorilla fights the king of the black gorillas while we are told by a narrator that the fate of Africa hangs in the balance.
Lots of Added Special Features
Overview
THE BRIDE AND THE BEAST –  is a supernatural drama of terror and scientific fiction produced and directed by Adrian Weiss. The script was written by none other than Edward D. Wood Jr.  When Laura (Charlotte Austin) and Dan (Lance Fuller) get married, she appears to be more interested in Dan's gorilla. It's revealed through hypnosis that she was Queen of the Gorillas in a previous incarnation.  1958 | 78 min. | B&W |1.78:1 |NR
WHITE GORILLA – A white gorilla is snubbed by black gorillas because he is the wrong color. Cut off from his tribe he becomes lonely and angry. After troubling hunters and natives, the white gorilla fights the king of the black gorillas while we are told by a narrator that the fate of Africa hangs in the balance. The movie was made by editing some 40s acting into footage from a 1927 silent serial, Perils of the Jungle, starring Frank Merrill the fifth screen Tarzan.   1945 | 63 min | B&W | 1.37:1 | NR
SPECIAL FEATURES: Bride and the Beast Commentary with Charlotte Austin, Bob Burns, Slick Slavin (Trustin Howard) and Tom Weaver, White Gorilla Commentary with Bob Burns and Tom Weaver; Trailers; Bios; Advertising Galleries; Photo Gallery of Bob Burns; Bride and the Beast: "Ballyhoo"; Tom Weaver and his works; Bonus Video: Surviving footage from "Perils of the Jungle" serial (1927) – Source for the stock footage used in "The White Gorilla"
*141 min + Special Features